Event Information
Yamagata Opera Festival
Event Information
2022.12.2
Starting from this December, there will be opera performances every month at Yamagin Kenmin Hall (Yamagata City, Japan) under the title of "Yamagata Opera Festival." The past prize winners of our competition will appear in the leading roles in these opera performances. This is truly and coincidentally honored!
Yamagata Opera Festival
Date

KOBORI Yusuke appears in "Il Barbiere di Siviglia" Saturday, December 10, 2022
TAKAHASHI Eri appears in "Le nozze di Figaro" Saturday, January 28, 2023
YOSHIDA Tamayo appears in "La Bohème" Sunday, February 26, 2023

Venue

Yamagin Kenmin Hall (Yamagata, Japan)

Details

Yamagata Opera Festival website (Japanese):
https://yamagata-operafes.jp/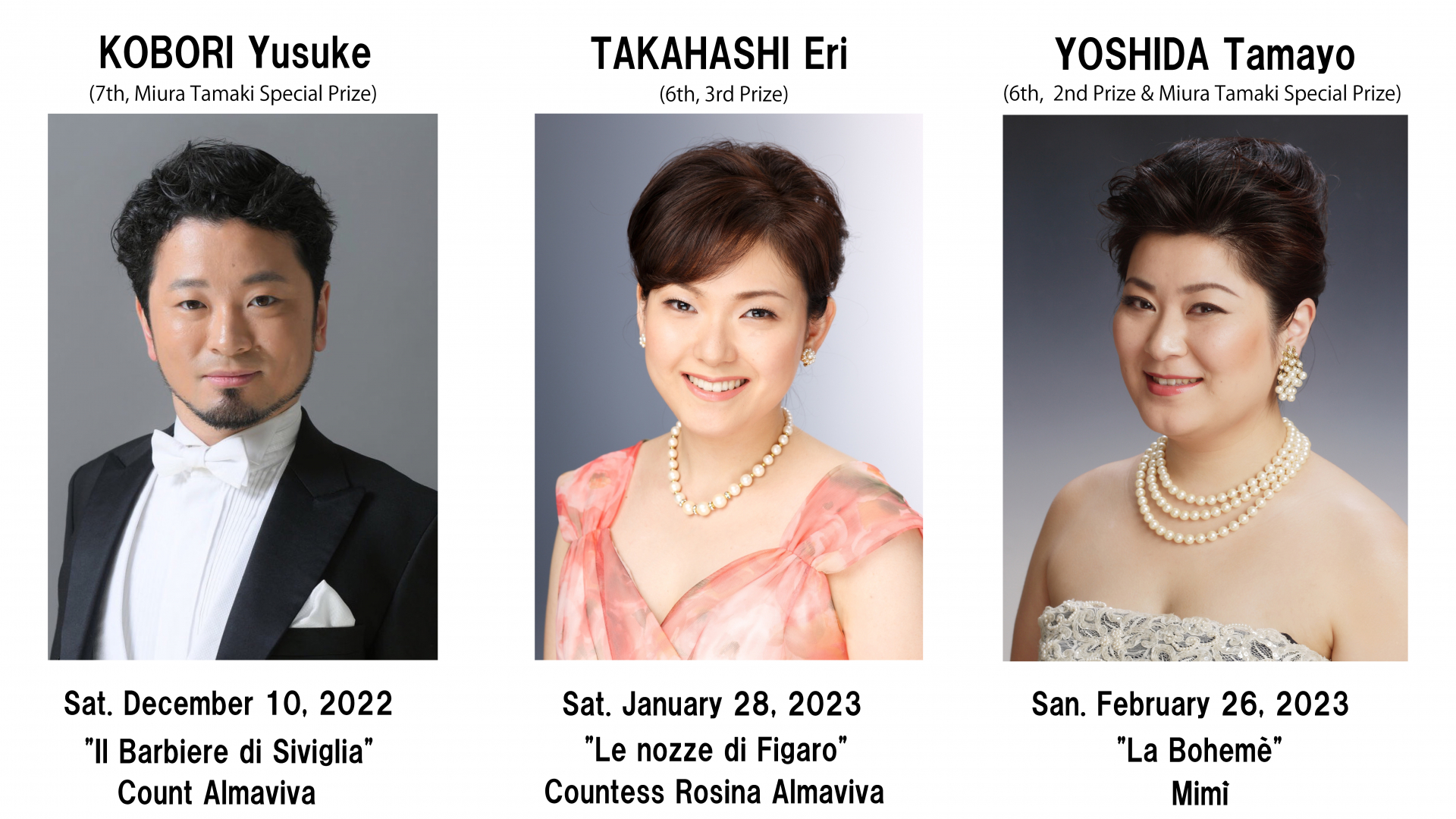 First, on December 10, KOBORI Yusuke will perform as Count Almaviva in Rossini's "Il Barbiere di Siviglia." Following performances at the Nissay Theatre and the Biwako Hall, you can expect his accomplished singing and acting performance. Next, on January 28, TAKAHASHI Eri will perform the role of the Countess in Mozart's "Le Nozze di Figaro." This performance follows Oita and Sakai after appearances at the Tokyo Bunka Kaikan by Tokyo Nikikai, so you will be able to hear a lot of the Countess' pathos. Finally, on February 26, YOSHIDA Tamayo will appear as Mimi in Puccini's "La Bohème, which is a concert-style performance, so you can enjoy her singing a lot.
Although the order of composition is reversed, the order of the story is "Il Barbiere di Siviglia" and then "Le nozze di Figaro," which is the perfect order for the first two performances. If you see these two performances, you have no reason not to see the third one. Expect to see the singing and acting of the prizewinners of our competition!